"Products can be customized into any feature based on a grower's preference since we manufacture everything ourselves," says Zhang Yinchao, Sales Manager at Hebei Lantan Import and Export Trade Co., Ltd., a Chinese manufacturer of indoor farming equipment.
Lantan's clientele is mainly greenhouse growers, due to their main products: greenhouse products, such as planters, seedling trays, complete planting equipment, and vertical growing towers and walls.
The vertical growing towers are a perfect fit for greenhouse growers, according to Zhang, since they can easily use the vertical growing towers as a hybrid solution in their existing facility or add some products to their product range.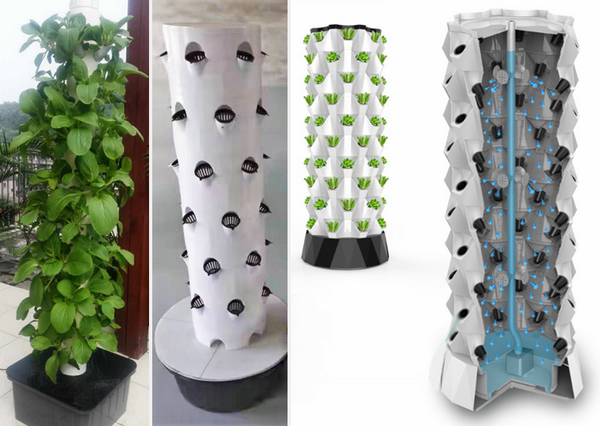 Some of Lantan's tower options
Spiral growing towers
Besides the 'regular growing towers', Lantan also supplies spiral growing towers. Zhang claims that the towers received a lot of attention due to their aesthetics. "The towers have a unique design that creates a beautiful atmosphere when growing food indoors at the same time. Not only do they have a high utilization rate, but they also allow for high productivity, claims Zhang.
Inside the tower, several crops can be grown such as all sorts of leafy greens, strawberries, flowers, herbs, and so on. The spiral vertical tower can be tuned according to customers' requirements. From lights and color to height. The lights, for instance, can be manually added or installed on the forehand.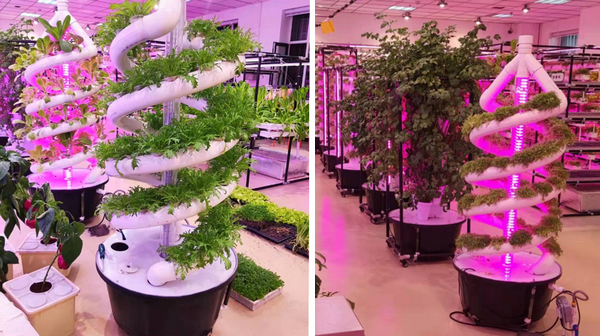 The spiral growing towers
The largest share of clientele are growers from North America, Saudi Arabia, Australia, the UAE, Indonesia, UK, France, and others. These growers mainly cultivate leafy greens, lettuce, strawberries, flowers, and plants.
"I think the future of agriculture is set on hydroponic and substrate cultivation due to the low cost, high efficiency, safety and hygiene, and most of all, space-saving," Zhang notes. Zhang gives away that Hebei Lantan is developing some new products this year, however, they cannot give away what those are yet.
The hybrid way
"Our solutions help growers to utilize more space as we allow them to grow vertical in a small growing surface. As well as allowing more growing capacity. This does not only save them hugely on costs, but water and time as well," Zhang notes.
Zhang explains that the towers can be used anywhere, not depending on any geographical background. Due to the low maintenance- and labor costs, growers can get a proper income with these systems. From 30-40 towers can be handled by one worker as the product can be easily cleaned, moved, and handled.
From our tests and growers' results, the following crops can be grown in our systems: lettuce and most leafy greens, tomatoes, strawberries, cucumbers, hot peppers, potatoes, and many other fruits and vegetables.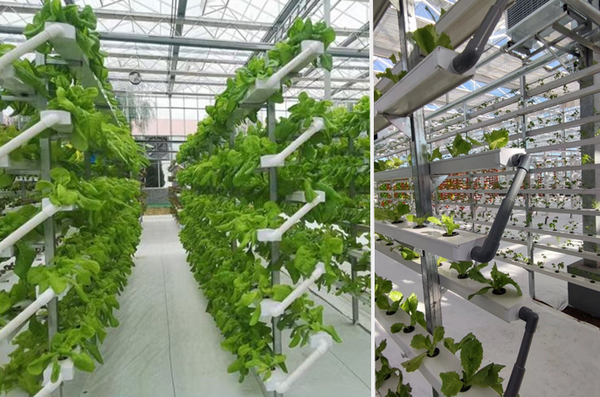 In terms of equipment, the company wants to think along with customers if they'd like to see different plastic requirements. As well as other plastic hydroponic products, such as flower-, seedling- pots, and rice pots, which can be manufactured at any gram and all kinds of injection parts.
Room for expansion
Currently, Lantan's main sales countries are Indonesia, Australia, UAE, Oman, Brazil, Czech Republic, Malaysia, USA, Canada, Thailand, Spain, UK, France, Russia, and many other countries.
The company counts 120 employees thus far. "When the time is right after the technology is upgraded, we are considering international expansion. Once we've reached that stage, we are hoping to collaborate with other parties to expand our product range and become better and better," says Zhang.
For more information:
Zhang Yinchao, Sales Manager
export@hb-lantan.com
Hebei Lantan Import and Export Trade Co., Ltd.
www.hblantan.com